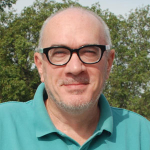 Brian E. Davis is an educational entrepreneur and pioneering leader in University admission marketing and recruitment. His organizational skills and ability to implement 'the details' has brought him success in the areas of educational marketing, recruitment, management, operations and public relations.
A strong work ethic, the desire and ability to learn new things and be flexible in any working situation are his working foundation. Mr. Davis is a generalist who becomes a specialist when required. Learning new things and meeting new people is something he enjoys. Throughout his career, Mr. Davis has developed marketing plans, been involved in branding and advertising strategy as well as development and implementation of that strategy. He has managed creative staff and has cultivated relationships with outside constituents and has a working knowledge of computing and data base management. He does what needs to be done to get the job done; in short, he doesn't 'think outside the box'—rather he 'thinks around the corner!'
Mr. Davis began his international educational career working with students from Central and South American and Europe while working for Roger Williams University in Bristol, RI. His international educational expertise was noticed by Richmond, The American International University in London, England and was asked to open a US office for them. He started sight unseen and didn't even have paper clips or letterhead! He grew from an office of one to a staff of 3 after 16 years. Having built a highly successful US recruiting office for them he 'retired' as Director Emeritus and was quickly invited to head up the admission efforts in the US for The American University of Rome, Italy. During his tenure with Richmond, he was instrumental is establishing the AIFS and ACIS's 'Summer Advantage' program for High School Students. Prior to these posts he worked at The Franklin Institute of Boston and Wichita State University. Most recently he and his wife of 31 years restored 2 historic buildings—one a 1926 art deco inspired building (3 floor through lofts); the other their loft home in a 1916 bank type building. Mr. Davis served as not only the general contractor, but also the general laborer.
Mr. Davis earned a General Studies Degree in Psychology, Sociology and Religion from Wichita State University. He completed a Master's Degree in Theology, Literature and Ethics from Boston University where he studied with Noble Peace Prize recipient Elie Wiesel and Dr. John Cartwright, Martin Luther King, Jr. Professor of Social Ethics. He has completed Leadership Training through his country Leadership Training Program, ran for state representative and has a passion for the Theatre. He is an avid fan of Cirque du Solei whose motto is 'Remember the reason for the work'. He loves to travel, read and listen to Broadway Show Tunes.