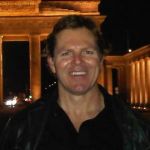 Michael N. DiMauro is the Chief Executive Officer of LPI Learning, Renzulli Learning, Agent Au Pair and is a Partner in GeoVisions.
Mike is foremost an adventurer and entrepreneur. He was bitten by the international development and education bug while interning for the United Nations Development Program (UNDP).  Mike has since steered international businesses to success using a keen sense of marketing and analytics to obtain results.
As a newly graduated high school Social Studies teacher Mr. DiMauro participated in a faculty led program to the Soviet Union, where he met with educators and cultural groups. This experience provided the impetus to travel to Paris to experience the 200th Bastille Day celebration in 1989.  This trip was enlightening, including study of historical sites and major cities in France, Germany, Belgium and the Netherlands.
Already a world traveler at a young age, Mike's next ventures spurred on his entrepreneurial spirit. Resigning his teaching position, he launched Au Pair International; however a Congressional Moratorium was placed upon all start-ups, leaving Michael determined to secure a position in the international workplace.   He proactively connected with both Greenwich, CT. based American Institute for Foreign Study (AIFS) and Bridgeport, CT. based Connecticut World Trade Association (CWTA). This action dramatically impacted the next phase of his career as Mr. DiMauro's developed his passion for marketing.
As the Membership & Development Director for CWTA, he spearheaded the marketing activities for the Sino-Connecticut Trade Expo in 1992, which brought more than 100 high level business leaders from China to the U.S.  The event was highly successful and was supported by large U.S. firms with an early presence in China.  Mike's strategy targeted firms that had established a manufacturing operations in the Pudong District of Shanghai, which included Xerox, Union Carbide, Bristol Meyers Squibb, UOP and ABB.  The Xerox relationship culminated in a large sponsorship of the CWTA.
During the summer of 1992, AIFS contacted Mr. DiMauro regarding a new venture to establish and grow an inside sales unit to support the Au Pair in America Division Mike's experience with Au Pair International and the CWTA were a perfect fit for AIFS, spurring on a 21 year career within the worldwide organization. The inside sales unit utilized the latest in Customer Relationship Management (CRM) technology and the combination of the two resulted in a dramatic increase in sales for Au Pair in America. Mike then spearheaded CRM and Contact Center implementation across multiple product lines and around the globe for AIFS to spread best sales and marketing practices throughout the company, including Academic Year in America (AYA) and Summer Institute for the Gifted (SIG) divisions.
In 2005, Mike was appointed Senior Vice President, to the AIFS, Inc. Board of Directors and became a Trustee with the AIFS Foundation.  He became the Chief Marketing Officer of the AIFS Group and was management of the Information Technology unit in the US Headquarters. In 2008, Mike brokered a deal with Joseph S. Renzulli in which AIFS became the exclusive consumer marketing channel for the Renzulli Learning System.  The system had been offered exclusively to schools, but AIFS consumer, international and gifted and talented provided significant channels to promote the Renzulli Learning Family Edition.  Mike and AIFS promoted the Renzulli Learning System until it was sold to Compass Learning in 2011.
The AIFS experience was instrumental in Mike's global data driven business acumen and the company achieved record profitability during his tenure as a senior executive.  Over the course of Mike's twenty one year career with AIFS, he generated more than $2 Billion in revenue, and has helped more than 500,000 individuals to enjoy an international education experience.
In 2014, Mike founded Legacy Partners International, Inc., which is now DBA as LPI Learning.  The company has formed through a combination of partnerships, organic growth and acquisitions. LPI Learning programs include, Study in the USA and Renzulli Creativity Programs, Agent Au Pair, AuPair.com USA, GeoVisions Teach, Volunteer, Au Pair & Study Abroad and the Renzulli Learning System (SAAS).
LPI Learning offers the World's Most Innovative Global Education Programs.  They provide participants with a competitive advantage to succeed in the 21st Century.  The Renzulli Learning System is the centerpiece of LPI Learning programs and it provides a global academic delivery platform to build upon.  This unique strategy has positioned LPI Learning and its partners with an unparalleled value proposition within the Global Education space.
Always enthusiastic, positive and 'hands on', Mike and his family have been avid supporters of cultural exchange and international education.  They have hosted six au pairs, a high school exchange student and three of their children have attended summer camps staffed by international camp counselors.
Mike now looks forward to a new adventure with LPI Learning, Renzulli Learning, Agent Au Pair and GeoVisions by expanding international and exchange opportunities for years to come and making a significant contribution to global education.