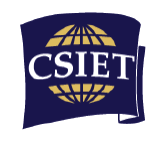 Communicating Coronavirus
Nothing is more important to us than protecting the health and safety of student exchange participants and families. In times of concern, though, it's easy for the people we serve to lose sight of our promise.
Given the recent prominence of the novel coronavirus outbreak in Wuhan, China, it is safe to say many of our participants, host families and others within the exchange community have questions and concerns about the impact this will have on their exchange experiences and, more importantly, their safety. This puts significant pressure on our program partners to address this situation head on and provide answers at a time when there are few.
We are all affected by the threat of Coronavirus differently, and we are all taking different levels of precautions considering the vastly different audiences CSIET members serve. So rather than provide precise language you might use, we offer the communications guidance below.
Don't wait for people to ask questions before reassuring them.
Participants, families and others in your community already have questions, whether they've voiced them or not. The best way to retain confidence among your audiences is to communicate early and often. Reiterate that safety is paramount – it never goes without saying. Speak to any concrete steps being taken to ensure the wellbeing of everyone involved and, if necessary, the strength and future of the program. If you don't yet have all the answers and are just monitoring the impact of Coronavirus on your community, that's OK – say so. In any event, don't allow silence to form a vacuum. Be understanding and honest about the complexities of this situation.
Be compassionate.
In a time like this, with so much emphasis on caution and isolation, it is easy for the participants and families most affected by this outbreak to feel alienated. U.S.-based students native to affected areas may be feeling great concern, anxiety or even depression. We must ensure these spirited students feel our support. Deputize your on-the-ground support systems to reach out and extend a helping hand or an open ear.
Be respectful and culturally sensitive.
Especially with media reporting, it's easy to paint a massive, diverse and culturally rich population of people with one superficial brush. Be sensitive in your communications not only to avoid generalizations about the Chinese people, but also to reject generalizations that may be perpetuated in the news media. Also, as our Chinese colleagues and counterparts are in the middle of a very important New Year celebration, be extra sensitive to avoid offense. Want to be safe? Show your communications to a knowledgeable and respectful colleague or counterpart before blasting off to all your audiences.
Monitor the situation.
The way in which you communicate with your audiences will likely change as this situation evolves. Benchmark moments, such as the issuance of updated travel advisories or confirmed cases in new locations, may affect not only "what" you say to your audiences, but also "how" and "when." Consider using the following resources to monitor the situation and gauge how your organization should respond.