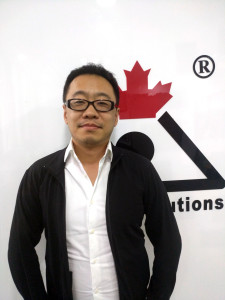 Bo Jia is an entrepreneur and businessman with two decades of multicultural experience. Bo's first trip abroad was as an international university student in Canada, and his professional experience includes work in Washington State and British Columbia. While in Canada, Bo discovered a growing need for qualified caregivers to assist Canadian families, and he returned to China to launch Success Solutions Career Training school in 2006.
It has since become the largest caregiver training program in mainland China. The school is headquarter in Shenyang, China, with additional campuses in Shanghai and Guangzhou, and a business office in Vancouver, British Columbia.
With leadership skills passed down from his grandfather, a respected general in the Chinese army, Bo has strong vision for the future. He travels internationally every six weeks to maintain, strengthen and expand his business partnerships. Bo resides in Shenyang with his longtime fiancée, Shasha, his 8-year-old daughter and 2-year-old son.