Renzulli Creativity Programs

How are they different?
Program Acceptance
Traditional gifted & talented programs utilize a standardized test score approach to program acceptance, which allows students in the 95th percentile or above to participate.  However, research has demonstrated that no single criterion can be used to identify the pool of truly creative and productive people.   
Highly successful individuals consistently share three traits, as detailed in Renzulli's Three Ring Conception of Giftedness, which are Intelligence, Task Commitment and Creativity.  The intersection of these three characteristics indicates Gifted Potential and is the basis of the Renzulli principles.  Test scores on the 85th percentile and above, plus strong task commitment and creativity constitute the Renzulli Creativity Program acceptance criteria.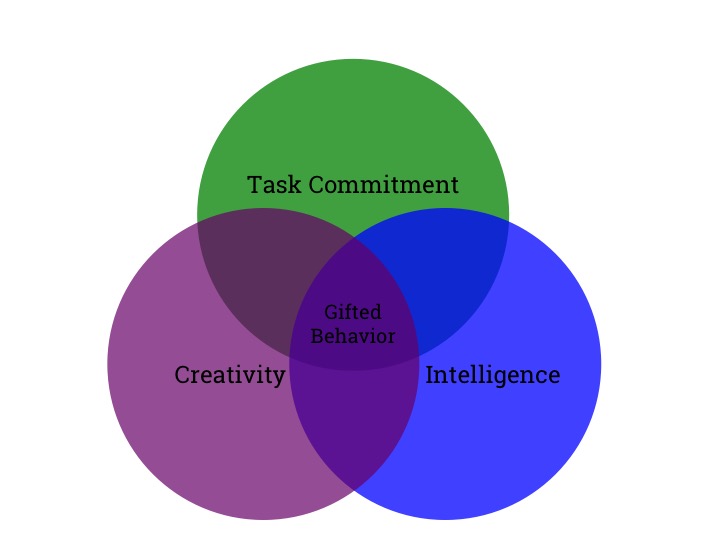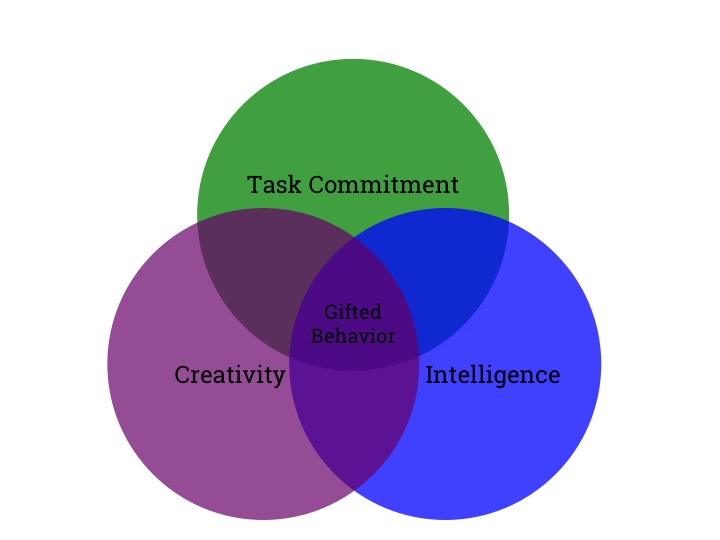 The Three-Ring Conception of Giftedness
 Curriculum
Most gifted and talented programs allow participants to take an accelerated course in a particular area of study.  Other programs offer an enrichment model, which allows students to select a variety of courses of interest in various disciplines.  Though these programs help students to achieve advanced skills in one area, they do not lead to advanced learning skills, such as teamwork, research and executive functions.
Renzulli Creativity Programs allow students to solve a problem related to their top personal interests, which leverage Enjoyment, Engagement and Enthusiasm.  Student passion and high level of engagement stimulate advanced learning skills.  Participants will also develop these solutions with other students that share the same passion from across the globe.  As a result, participants develop important Executive Function Skills such as time management, task commitment, goal orientation, teamwork, a strong work ethic and global competence.  These skills help to produce the world's next generation of problem solvers and leaders.
 Learning Outcomes
Traditional gifted & talented programs allow participants to achieve advanced levels of competence in a subject area or in several enrichment areas through participation.  The social and emotional benefits of these programs is also beneficial, as participants can enjoy a wonderful learning experience with their peers.
Renzulli Creativity Program participants develop advanced thinking skills, as well as a creative and investigative mindset.  These skills are transferable to a broad range of competencies and help to elevate overall academic performance.  Most importantly, Renzulli Creativity students exhibit increased confidence and the belief they can take on larger challenges.
How does the Renzulli Creativity Program work?
Students complete a questionnaire which indicates areas of interest, competency for a topic and their learning style. The Renzulli Profiler in Compass Learning's GoQuest software is recommended for this activity
Students are grouped into Enrichment Clusters. The clusters are assigned a project focused on a Real-Life-Problem. Each cluster is supervised by a teacher who shares their passion for the topic
Real-Life-Problems share four criteria:

The topics must have a personal frame of reference
No agreed solution or answer exists to the problem
Analysis of the problem motivates students to find solutions that change actions, attitudes and beliefs
The problems target a real audience. Parents and members of the community may be involved in the project to enhance the reality of the experience

Students collaborate with one another to research and develop a solution to the project, with each participant having a role to play (drama club example)
Students acquire Just-In-Time (JIT) research skills to obtain and synthesize information to develop a solution to their problem
Together the students formulate their solution with all participants making a contribution
Students present the solution to teachers, students, parents and the community
How are the teachers trained for the program?
To maintain Renzulli Creativity Programs standards and consistency, all instructors will be trained by Joseph S. Renzulli and his team.  Participating teachers will also possess the following characteristics:
Enjoy curiosity, questions from students and is OK with not having all of the answers
Are confident and not afraid of questioning themselves
Advanced Subject Area Competency In One or More Content Areas
Have a relaxed personality
Are capability of allowing less structure within the classroom to foster an environment of a creative mindset by the students
These qualities are crucial, as Renzulli instructors must create an environment that supports student curiosity, teamwork, experimentation and divergent thinking.