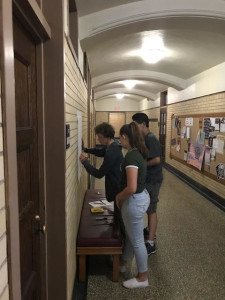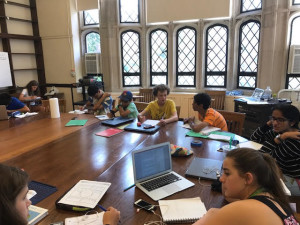 Students in the Renzulli Creativity@Yale program have started their program and are ready to tackle real-world challenges over the next two weeks!
After their first two days in session, students were asked to reflect on their experience so far and hopes for the remainder of the program- here are some of their answers.
Lavanya
What have I enjoyed so far? What am I looking forward to? What do I find challenging?
I registered for the program with the hopes that I'd get to know myself a little more – learn about how business and entrepreneurship works, how I can link it to things I'm interested in and perhaps find something else I like that I might want to work on in the coming years.
Being in an environment where open minded group discussion, honesty and flexibility are readily accepted is a rare and wonderful thing for me, and to start, I would like to say that that is most certainly the best 'thing' I have enjoyed as of now.
The fact that I and every other student in the classroom can speak their mind, discuss the issues they're passionate about as well as have people debate, elaborate on and ask questions about what they have to say is just incredible – goodness knows when next I shall be in such a setting!
Another experience here that was but absolutely phenomenal for me to have was going out into the streets to flag people down and ask them about the issues they're concerned about; walking through the streets and shops of New Haven with my group, muttering to them which individuals did or did not look like good candidates for interviews, I was daunted and awe-inspired at the same time. To have been able to talk to random folks and learn about their opinions on global problems and how various things affect them in their daily lives was an exceptional opportunity to have, and I am, of course, forever grateful, but it was…well, it was unnerving too.
THAT, dear reader, is the kind of exposure I would DIE to receive in my own country.
What I'm looking forward to is doing tons of research and brainstorming – be it by myself or in a group – about my global issue and how to resolve a part of it. The others' ideas about their issues too, of course, I am itching to hear about. The mere thought of working on a project like this sparks me – I can't wait to see what we'll come out with at the end of the two weeks!
I am also really excited to meet people and professionals, sit for their lectures, talk to them about their advice, their experience, their opinions. Exposure is one of the main objectives of my doing this program and it is through coming across new people that I adore acquiring it!
When it comes to the challenges I am facing, now, I would say the prospect of zeroing in on what precisely I would like to work on is rather unsettling as of this moment. I also think I should most likely vocalize more of my thoughts in class – I do already, but not nearly enough. One never does know when saying certain ideas out loud can provide a second person with a light bulb, or cause a discussion that can provide oneself with a light bulb
That said, I must conclude. Two days of this Renzulli youth program having gone by, my having received an idea about what we shall be doing, I am but MOST eager to see the rest of these weeks go by. Enjoyments and challenges combined, I think we are all in for a splendid experience.
Ishan
My experience has been good. I have learnt a lot and it was better than I expected especially the learning process. The Renzulli method of learning is innovative and a nice change from usual settings. RC's are fun and nice. Looking forward to more!
Julia
What have you enjoyed so far?
So far I have really enjoyed this camp. I'm learning a lot about myself and discovering my passions. I have enjoyed the interactions with my peers and hearing the extensive knowledge on several current day global issues. It's so great to know that there are kids with the passion for helping our modern world. In the news we have been hearing mostly bad news and how kids are getting more and more ignorant, though hearing this group of people talk brings me hope. I also love how all the kids here are so kind and reflective. Everyone has an educated opinion on big topics which makes conversation extremely interesting.
Elleen
I have enjoyed being able to pick our own topics and being able to talk to other strangers about their own opinion about Alzheimer's disease. I'm excited to continue with this project and to find a solution to keep people with Alzheimer's disease safe. I am very passionate about this topic. I found looking for the right people to talk to challenging. I wanted to find someone who wasn't too busy so I wasn't wasting their time but I also wanted to find someone who had knowledge about Alzheimer's disease. It's hard to tell if someone has knowledge about Alzheimer's disease just through their appearance but I managed to get three knowledgeable answers through three very different people with different social status and race.