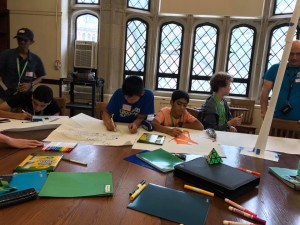 During their first week with the Renzulli Creativity Program@Yale, students were introduced to the Renzulli Learning model, chose their topics for individual presentations and began the research process.
With final presentations just a few days away, students have been focusing on solidifying their project ideas, developing their presentations, contacting their authentic audience, and beginning the initial presentation plan. They are finding connections amongst projects and interests.
The topics students are pursuing include
Alzheimer's Disease
Developing a New Global Digital Currency
Poverty Alleviation
Clean Energy
Students have also been making promotional materials, including fliers, social media posts, and videos for the final presentations in New Haven on Friday afternoon.  The group's energy is high and students are excited to share their final product with their peers and the wider community!